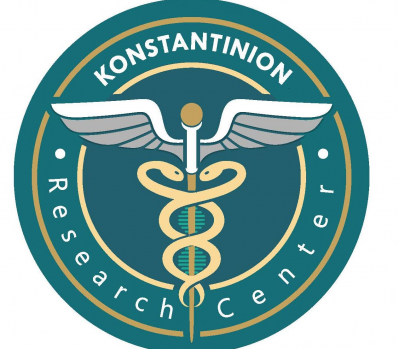 Konstantinion Research Center of Molecular Medicine and Biotechnology
Recherche partenariat
En recherche de financements
A propos
Konstantinion Research Center of Molecular Medicine & Biotechnology non-profit Foundation (KRC) was founded on 4/12/06 in Thessaloniki, Greece with main goal the promotion of research with the higher scientific, modern techniques, and moral criteria, as well as successful collaborations in national and international level. KRC is an innovative multicenter of creativity, which intends to promote research, educate, and collaborate by organizing seminars and cultural events, and participating in revolutionary research programs. Since 2010 KRC had its own scientific journal, but its publication has been postponed, because of other KRC essential priorities, related to the core strengthening and KRC development in human resources and test-methodologies' practical priorities (time limitations)
Within the context of KRC sustainability, there are several services, products, biological applications and devices that are available to KRC members and health professionals for social, professional and scientific utilization.
Scope
The founder of KRC is already member in editorial board and reviewer of 10 international journals and will present soon the course of Natural Regulating Medicine. Some goals or the foundation are the following:
· To collaborate with pharmaceutical or biomedical companies that have as intension the discovery of new drugs or biological supplements locally and internationally.
To organize and participate in seminar/conferences for the information of the public, and to propose scientific solution for prevention of the human health.
To collaborate with all the medical specialties of modern medicine in molecular, biological, genetic, bioresonance, and biotechnological level.
To help and train new researchers, scientists, health practitioners with new scientific techniques for better health welfare.
To develop new therapeutic and diagnostic protocols for prevention of human chronic, genetic and degenerative diseases.
To develop research team with new and excellent scientists to work in all the above goals of the Research Center.
To collaborate with other sciences as chemistry, quantum physics and mechanics, and to explore situations in matter, life in molecular and biotechnological level (nanobiotechnology)
KRC's future plans in the Sector of Medical Research & Innovation
Diagnostic evaluation with 25 monoclonal antibodies for cancer patients-an innovation for the planet These 25 monoclonal antibodies can be used in daily practice by clinicians to manage cancer patients in order to extend their life and give them much more quality in their daily routine. These antibodies cover specific pathways for cancer in terms of its metabolism, multiplication, EMT, metastasis, adhesion, and survival, which have been proven the last years and can be essential factors in the daily practice in order to manage the cancer patient with more targeted and individualized therapies. This project is mandatory to achieve international collaborations with high level scientists for the benefit of the cancer patients. Some of these antibodies are the following in all pathways of cancer and already have been tracked and ready to be set in labr: Multiplication: Bcl2, VEGF-A, VEGF-C, VEGF-D, Epithelial Mesenchymal transition: MMP9, WNT, TGF-b Metastasis: NOX2, OCT4, LOX1, Bcl2, STAT3 Adhesion: PDGF-AA, PDGF-AB, PDGF-BB, PAI1. Survival: CD36, CD47, CD44, survivin.
The innovative new diagnostic markers for Alzheimer's disease-new alternative treatments Our clinical-laboratorial team after several years of searching have found from the bibliography and selected innovative biomarkers that will make the difference in early prognosis of this disease and also to giver therapies with no side effects in order to stop or decrease the progression of this disease. Our center is in the development of the materials and seeking the pricing for the reagents in order to set them in the lab.
The team of KRC has developed many protocols by using flow cytometry, which can be used in many clinical laboratorial projects in many specialties either in the medical field or in general other health ; This team can handle efficiently most molecular techniques and immunological methods for the most advanced diagnostic goals that any partner can set internationally. Most of the center's colleaques hold PhDs, and Post Docs and can be part of any appropriate teaching team or research team or any challenging project that be lead to new scientific innovation.
Expertise
TESTS-METHODOLOGIES: Note: Protocols with the following techniques have already been tested with different measurements. Also, there is the possibility for any research protocol to be set and run by the above methodologies.
Flow cytometry tests are very unique and individualized. Our scientific team wrote a brochure, which gives the chance to doctors, patients, and all health professionals with the lowest cost available internationally to be assisted in targeted diagnostic and therapeutic issues. click here to see our brochure.
FLOW CYTOMETRY
FOR CANCER PATIENTS, RERPODUCTIVITY FAILURES, TRANSPLANTATIONS, DIABETES,
IMMUNOPHENOTYPE), CYTOTOXICITY TEST OF NK CELLS
TESTING
(ANTIBODIES):
CD45,CD2, CD3, CD4, CD8, CD14, CD19, CD16+56, CD 25, HLA-DR,TCRαβ, TCRγδ, ΝΚ cells
CHRONIC LYMPHOPROLIFERATIVE DISORDERS – LYMPHOMAS.
CHECK OF SURFACE ANTIBODIES
TESTING ,
(SURFACE ANTIBODIES):
CD19, CD5, CD20, CD38, CD45, CD23, CD43, CD11c, FMC7, CD79b, CD79a.
CD1a, TCR, CD30, CD56.
KAPPA, LAMBDA, IgM, IgD, IgG, IgA
CD103, CD22, CD25, CD138
CYTOPLASMIC ANTIBODIES):
ZAP70, KAPPA, LAMBDA, , IgM, IgD, IgG, IgA, CD3
(QUANTITATION):
CD20, CD38
ACUTE LYMPHOBLASTIC LEUKEMIA
TESTING
(SURFACE ANTIBODIES):
CD45, CD1a, CD2, CD3, CD5, CD7, CD4, CD8, CD19, CD20,
CD22,CD79a, CD10, IgM, IgD, IgG, IgA, HLA-DR,
(CYTOPLASMIC ANTIBODIES):
TdT, IgM, CD3.
ACUTE MYELOBLASTIC LEUKEMIA)
TESTING
(SURFACE ANTIBODIES):
CD45, CD2, CD13, CD14, CD15, CD19, CD33, CD34, CD56, CD61,
CD64, CD117, HLA-DR, CD 36, CD71, GLYCOPHORIN A, CD41, CD61.
(CYTOPLASMIC ANTIBODIES):
MPO, LYSOSYME.
(PNH)
TESTING
(SURFACE ANTIBODIES) :
CD55, CD59(IN THE NEUTROPHILS AND THE RED BLOOD CELLS).
(ΙΜΜUNOPHENOTYPE FOR DIAGNOSIS IN IMMUNODEFICIENCIES) SCID
(SURFACE ANTIBODIES): CD3, CD4, CD8, CD16, CD56, CD19, CD20, CD40L, HLA-DR, TCRαβ, TCRγδ, CD45RO, CD45RA, CD62L,
CD25, CD69, CD27, CD28, CD80, CD86.
(CYTOPLASMIC CYTOKINES):
IL-2, IL-4, IL-5, IL-6, IL-10, INF-γ, TNFa.
(PHAGOCYTOCIS)
CHECKING OF HIV(+) PATIENTS
(SURFACE ANTIBODIES):
CD45, CD14, CD3, CD4, CD8, CD19, CD16+56, CD45RA, CD45RO, CD38.
(QUANTITATION ):
CD38.
DNA ANALYSIS
CELL DETECTION IN EACH PHASE
1) RELAXATION (G0/G1
2) SYNTHESIS DNA (S)
3) MITOSIS (G2/M)
DNA INDEX
(APOPTOSIS DETECTION)
DETECTION OF CHANGES IN THE CELLULAR MEMBRANE:
ΑΝΝΕΧΙΝ V, PROPIDIUM IODIDE, APO-1, CD95.
ANALYSIS OF ENDOCELLULAR ORGANELLES
BCL-2
CASPACES DETECTION
DETECTION OF DNA INDEX
MEASUREMENT OF CD34+ (STEM CELLS)
CD45/CD34 WITH PROCOUNT KIT
MEASUREMENT OF PROTEINS, CYTOKINES BY THE USE OF BEADS
TH1/TH2 KIT (IL-2, IL-4, IL-6, IL-10, TNF-a, IFN-g)
INFLAMMATION KIT (IL-8, IL-1b, IL-6, IL-10, TNF, IL-12p70)
ANGIOGENESIS KIT (IL-8, BFGF, VEGF, ANGIGENIN, TNF)
ANAPHYLATOXIN KIT (C4a, C3a, C5a)
CHEMOKINE KIT (IL-8, RANTES, MIG, MCP-1, IP-10
ΜΕΤΡΗΣΗ ΚΥΤΤΑΡΟΚΙΝΩΝ ΣΕ ΔΑΚΡΥΙΚΟ ΥΓΡΟ
BRONCHOALVEOLAR LIQUID (BAL)
CD15 FITC /CD23PE /CD45 PerCP
CD3+, CD4+,CD8+,CD25+, CD3+HLA-DR+
CBA Th1/Th2
CBA Inflammation
CBA Chemokine
FERTILITY: CΒΑ:BDCΒΑ ΤΗ1/ΤΗ2
DETECTION OF DEGRANULATION OF BASOPHILS
(PLATELETS FUNCTION)
PAC-1, CD41, CD42a, CD42b, CD61, CD62P
METHOD ELISA
PCR-MOLECULAR TECHNIQUES
CONTROL AND PREVENTION WITH THE PHENOMENON OF BIORESONANCE
OXIDATION CHECKING
DNA FRAGMENTATION OF SPERM
Publications
Toliopoulos IK (2018). "Major of Natural Killer Cells in Cancer Immunology and Reproductive Medicine". Acta Scientific Cancer Biology (2018):01.
Toliopoulos IK (2018). Ovarian rejuvenation therapy with PRP (plasma rich in platelets)-an innovative solution for women's infertility. J Transl Sci, volume 5:1-2. doi:
Toliopoulos IK, Zoitas G, Kostikidis M (2019). The importance of diagnostic and therapeutic efficacy of th1/th2 cytokines in a case report of a 47-year-old lady, who was misdiagnosed with the traditional medical methods. J Transl Sci, volume5:1-3.
Oikonomidis SA, Simos YV, Toliopoulos IK et al. (2017). OXIDATIVE STRESS INCIDENCE ON THE SEVERITY OF KNEE OSTEOARTHRITIS. J. Musculoskelet. Res. 20, 1750008
Oikonomidis S, Simos YV, Toliopoulos IK, Verginadis II, Oikonomidis AS, Ragos VN, Karkabounas SC, Evangelou S, Evangelou M (2014). Vitamin C and E supplementation versus standard meloxicam regimen in the treatment of patients with chronic degenerative arthritis of the knee: A preliminary pilot study. J. Musculoskelet. Res. 17, 1450003;
Simos YV, Toliopoulos IK, Verginadis II, Karagounis IV, Charalampidis PS, Ragos VN, Evangelou AM, Karkabounas SC (2013). Evaluation of intraperitoneal ozone application effects to rat's antioxidant enzymes, superoxide dismutase and glutathione peroxidase. J App Pharm Sci, 2013; 3 (11): 035-039.
Toliopoulos IK, Simos YV, Oikonomidis S, Karkabounas SC (2013). Resveratrol diminishes platelet aggregation and increases Susceptibility of K562 tumor cells to natural killer cells. Indian Journal of Biochemistry and Biophysics 2013, pp:.14-18.
Toliopoulos IK, Simos Y, Bougiouklis D, Oikonomidis S (2013). Stimulation of natural killer cells by some homeopathic complexes- An in vitro and in vivo pilot study in advanced cancer patients. Cell Biochemistry Function, 2013, in print.
Simos YV, Verginadis II, Toliopoulos IK, Velalopoulou AP, Karagounis IV, Karkabounas SC, Evangelou AM (2012). Effects of catehin and epicatehin on superoxide dismutase and glutathione peroxidise, in Rep 2012;17(5):181-6.
Toliopoulos IK, Roussev RR, Konova E (2012). Case of a 39 year old woman experinecing natural successful pregnancy after 2IUI attempts in Northern Greece after suppression of abnormanl NK functional activity. American Journal of Reproductive Medicine, May 2012, 67: 51.
Ioannis , Simos YV, Vergiandis I, Papandreou D, Oikonomidis S, Evangelou A, (2012) "Anticancer activities of kefir against LMS and K562 cell lines by flow cytometry analysis", Nutrition & Food Science, Vol. 42 Iss: 4,
Toliopoulos IK, Simos Y, Verginadis I, Oikonomidis S, Karkabounas S. (2012). NK cell by administration of Vitamin C and Aloe Vera juice in vitro and in vivo. A pilot study. Journal of Herbal Medicine, June 2012, (2)2:29-33.
Ioannis K. Toliopoulos, Yannis Simos, Telemachos Daskalou, Ioannis Verginadis, Angelos Evangelou & Spyros C. Karkabounas (2011). Inhibition of platelet aggregation and immunomodulation of NK lymphocytes by administration of ascorbic acid. Indian Journal of Experimental Biology Vol. 49, December 2011: 904-908.
Evangelou A, Toliopoulos I, Giotis C, Metsios A, Verginadis I, Simos Y, Havelas K, Hadziaivazis G, Karkabounas S (2011). Functionality of natural killer cells from end-stage cancer patients exposed to coherent electromagnetic fields. Electromagnetic Biology and Medicine, 2011. 30(1): 46–56.
Theoharis V, Toliopoulos I, Simos Y,, Metsios A, Zelovitis I, Tzora A, Liasko R, Skoufos I, Karkabounas S (2011). Inhibition of platelet aggregation and stimulation of natural killer cells functionality by administration of flavonoids. South Asian J Exp Biol; 1 (2): 94‐100; 2011
Toliopoulos I, Fragkoraptis D, Gerou S, Fragkoraptis E. (2009). The impact of CO2, dry Baths on subpopulations of NK and NK-T lymphocytes, cytotoxic activity, level of inflammation and pain management in elderly with musculoskeletal syndromes-a pilot study. Experimental Medicine 2009;1(1):19-24.
Kallistratos E, Kallistratou A, Toliopoulos I. (2009). Attitudes to work and work environment management in lifetime practice: A questionnaire-based for physiotherapists working in the private sector in Greece. International Journal of Health science 2009;2(2): 184-190.
Toliopoulos I. (2007). The role of cytotoxic lymphocytes (NK cells) and substances with antioxidant capacity in cancer. Thesis, University of Ioannina. 2007.
Toliopoulos I, Bougiouklis D. et al. (2006). Induction of NK lymphocytes against cancer cell lines by administration of Morinda citrifolia. The FEBS Journal. 2006, 273:66.
Karkabounas S, Toliopoulos I et al. (2006). Effects of low intensity static electromagnetic fields on leiomyosarcoma cell lines. Biological effects of EMFs, 4th international EMFs workshop, October 2006, volume II: 1465.
Pistofidis A, Toliopoulos I. et al. (2005). Immunomodulation of NK Lymphocytes Against K562 cell lines by the administration of the homotoxicological supplement 'Ubichinon Compositum'. Tissue Antigens, 66:513.
Gerou S, Oikonomou D, Afkou Z, Ballauri I, Toliopoulos I et al. (2005). HLA typing and Relationship with Autoimmune diseases in the Greek Territory. Tissue Antigens 2005. 66:426.
Toliopoulos I, Daskalou T et al. (2005). Resveratrol, an ingredient of many plants, that increases NK lymphocytes' cytotoxicity against cancer cells. Turkish Journal of Haematology. 2005, 22:319.
Mots clés et domaine d'activité:
Accédez au prémier réseau pour la cooperation européenne

---

Se connecter

ou

Créer un compte

Pour accéder à toutes les informations disponibles

Idées proposées
Éducation et formation
Apprentissage des adultes
Enseignement supérieur
Konstantinion Research Center for Molecular Medicine and Biotechnology launches the only in Europe postgraduate training program in Natural Regulating Medicine after ten years of experience in its application. The program aims at the specialized education and training of health professionals in diagnostic and therapeutic protocols of ...
Thessaloniki, Greece
il y a 2 ans
Thérapies Alternatives
Soins de santé
Biotechnologie
Innovation & Recherche
Biotechnologie médicale
To be ethical with high scientific deontology and morale. To be creative and open minded.
Thessaloniki, Greece
il y a 2 ans
Appels à projets suivis
Pas d'appels à projets suivis!